Exploring the 7 Finest Japanese Whiskies in India: Unveiling a World of Taste and Finesse
If you're a whisky fan in India, you may already know the staggering variety of brands and expressions available. While Scotch whiskies have had a firm grip on the market for quite some time, another kind of whisky from a different country has been gaining ground and is now making its mark in India: Japanese whiskies. Japanese whiskies provide a fascinating look into the art of whisky creation due to their renown for superb workmanship, attention to detail, and distinctive flavour characteristics. This piece will explore some of the best Japanese whiskies sold in India, opening a new world of flavour and sophistication.
7 Finest Japanese Whiskies in India:
1. Yamazaki 12 Year Old
The Yamazaki 12 Year Old is a remarkable Japanese whiskey that exemplifies the Yamazaki distillery's personality and the high workmanship it is known for. It is well known for its delectable smoothness, depth, complexity, and flavorful equilibrium. Whiskey lovers will like the rich and satisfying sensation this whisky provides thanks to its hints of citrus, honey, and wood. The Yamazaki 12-Year-Old is guaranteed to dazzle whether consumed on its own, on ice or as an ingredient in a time-honoured cocktail.
Cost: ₹18,000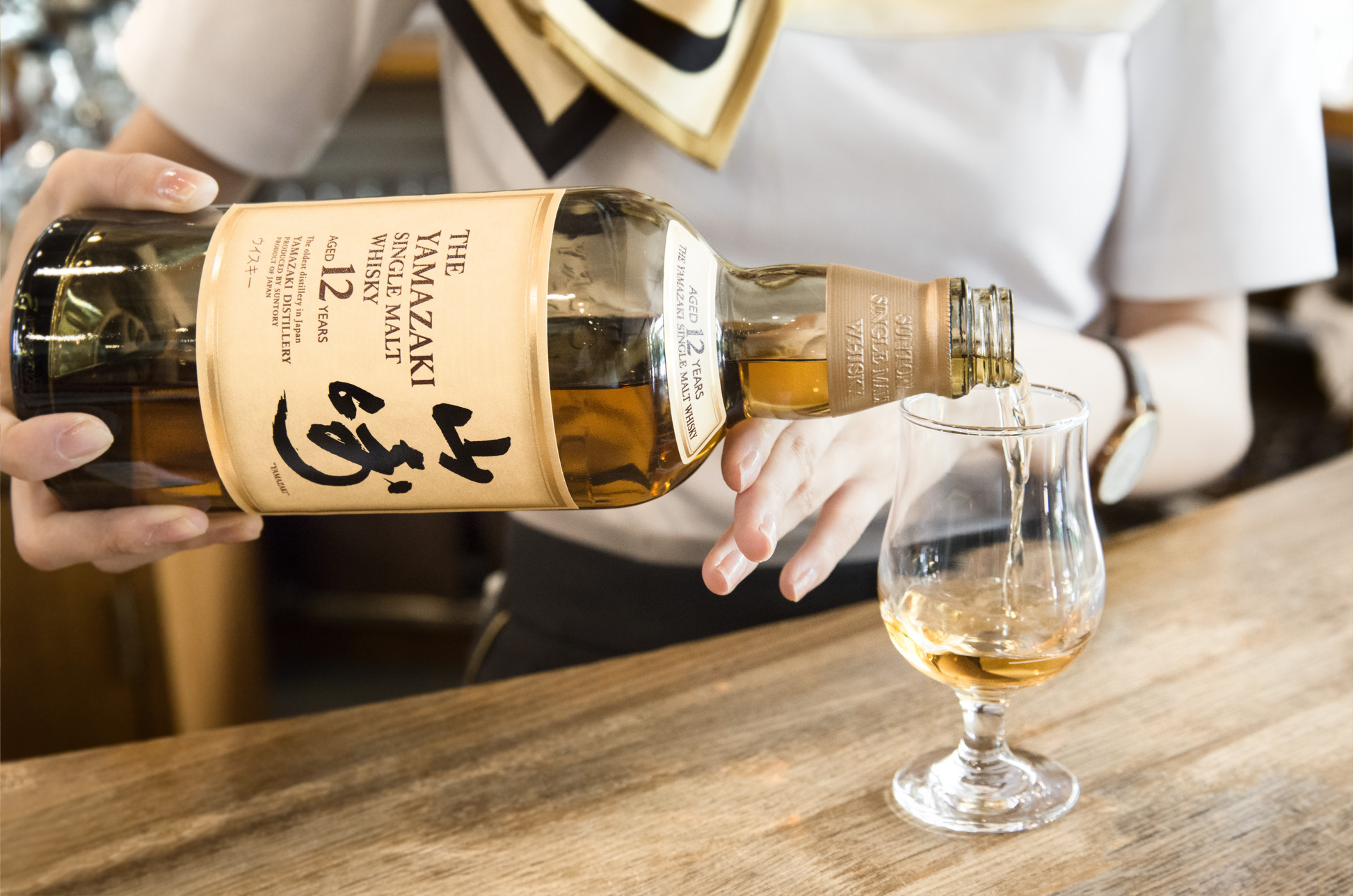 2. Hibiki Japanese Harmony
The Hibiki Japanese Harmony blended whisky is a perfect example of the blending technique at its highest level of sophistication. Its harmony characterizes and balances thanks to the careful selection of malt and grain whiskies used in its production. This superb combination offers a symphony of flavours, featuring traces of cherry, flowery undertones, and a touch of Mizunara wood. Because Hibiki Japanese Harmony is such a flexible whisky that can be enjoyed in various ways, it is an excellent option for whiskey fans of all experience levels, from novices to veterans.
Cost: ₹11,490
3. Mars Komagatake 2021 Edition
The Mars Shinshu distillery is responsible for the exceptional whiskey in the Mars Komagatake 2021 Edition. Traditional Scottish processes are mixed with Japanese precision to create this single-malt whiskey. Delicate fruitiness, slight smokiness, and mild spice come together nicely in this wine. Collectors and connoisseurs of fine spirits agree that the Mars Komagatake 2021 Edition is a fitting representation of the dynamic nature of today's Japanese whiskey market.
Cost: ₹18,200
4. Toki
Whiskey enthusiasts may try Suntory's Toki, a blended whiskey. Because of its updated twist on the classic Japanese whiskey taste profile, it's a safe bet that even picky drinkers will find something they like. The sweetness and spice of toki are evenly distributed over its smooth, light texture. When served neat, in a highball, or as a base for cocktails, Toki elevates the experience.
Cost: ₹3,960
5. Hakushu Distiller's Reserve
Hakushu Distiller's Reserve is a single malt whisky that captures the essence of the pristine Japanese forests surrounding the Hakushu Distillery. Known for its fresh and vibrant character this whisky offers a unique taste experience. It features crisp notes of green apple subtle hints of forest herbs and a gentle smokiness that adds depth and complexity. Hakushu Distiller's Reserve is a refreshing and invigorating whisky that appeals to nature lovers and whiskey enthusiasts alike.
Cost: ₹13,389
Also Read: 8 Best Bleisure Travel Destinations for Achieving the Perfect Work-Life Balance
6. Yoichi Single Malt
Yoichi Single Malt embodies Japan's long tradition of producing high-quality whiskey. This whiskey, distilled in Japan's far north at the storied Yoichi distillery is known for its powerful flavours. The fruitiness, smokiness and seaside vibes all work well together. Yoichi Single Malt is a whiskey with a bold and compelling personality that will not go unnoticed.
Cost: ₹11,190
7. Togouchi Premium Blended Whisky
The skilful mixing that went into creating Togouchi Premium Blended Whisky can only have come from Japan. The unique flavour of this whiskey comes from its ageing in a tunnel-like basement in the Japanese highlands. This one-of-a-kind setting softens and refines the whiskey, bringing forth the best in its complex flavours of dried fruits, caramel, and subtle spices. Togouchi Premium Blended Whisky is a shining example of Japan's innovative spirit industry.
Cost: ₹7,890
Conclusion
As you embark on your journey to explore the world of Japanese whiskies in India, the options mentioned above provide an excellent starting point. Each whisky brings its own distinct character, flavour profile, and craftsmanship offering a unique and memorable drinking experience. Whether you're a seasoned whiskey enthusiast or just beginning to discover the world of spirits, these Japanese whiskies are sure to captivate your senses and introduce you to a realm of taste and finesse like no other.
FAQs (Frequently Asked Questions)
Q. Where can I buy Japanese whiskies in India?
A: Japanese whiskies are widely available in bottle shops, general liquor stores, and on websites that provide a variety of alcoholic beverages. Shops dedicated just to whiskey and online marketplaces that target whiskey aficionados are two of the most common choices.
Q. Are Japanese whiskies more expensive than other whiskies?
A: There is a wide range of prices for Japanese whiskies due to characteristics including age, scarcity, and brand recognition. Some Japanese whiskies are more costly than comparable Scotch whiskies, but there are other cheaper choices that don't skimp on quality or taste.
Q. Can I visit Japanese whiskey distilleries in Japan?
A: Indeed, several of Japan's whiskey producers welcome guests for tours and tastings. Discover the history of whiskey, take a tour of the distillery, and taste some of the finest whiskies in the world all in one unforgettable experience.
Q. What food pairs well with Japanese whiskies?
A: Sushi, sashimi, grilled meats, cheese, and dark chocolate are just some of the dishes that go swimmingly with Japanese whiskies. Japanese whiskies have flavour qualities that go well with the spices and herbs used in these recipes.
Q. Are there any limited-edition Japanese whiskies worth seeking out?
A: Collectors and connoisseurs of the spirit pay special attention to restricted releases of Japanese whiskies. Unique taste characteristics may not be accessible in standard expressions but may be experienced with these exclusive releases. Keeping an eye out for these rare releases and learning about their unique qualities is a worthwhile endeavour.
Cover Image Credit Canva